SERVICES
Cinema for Villas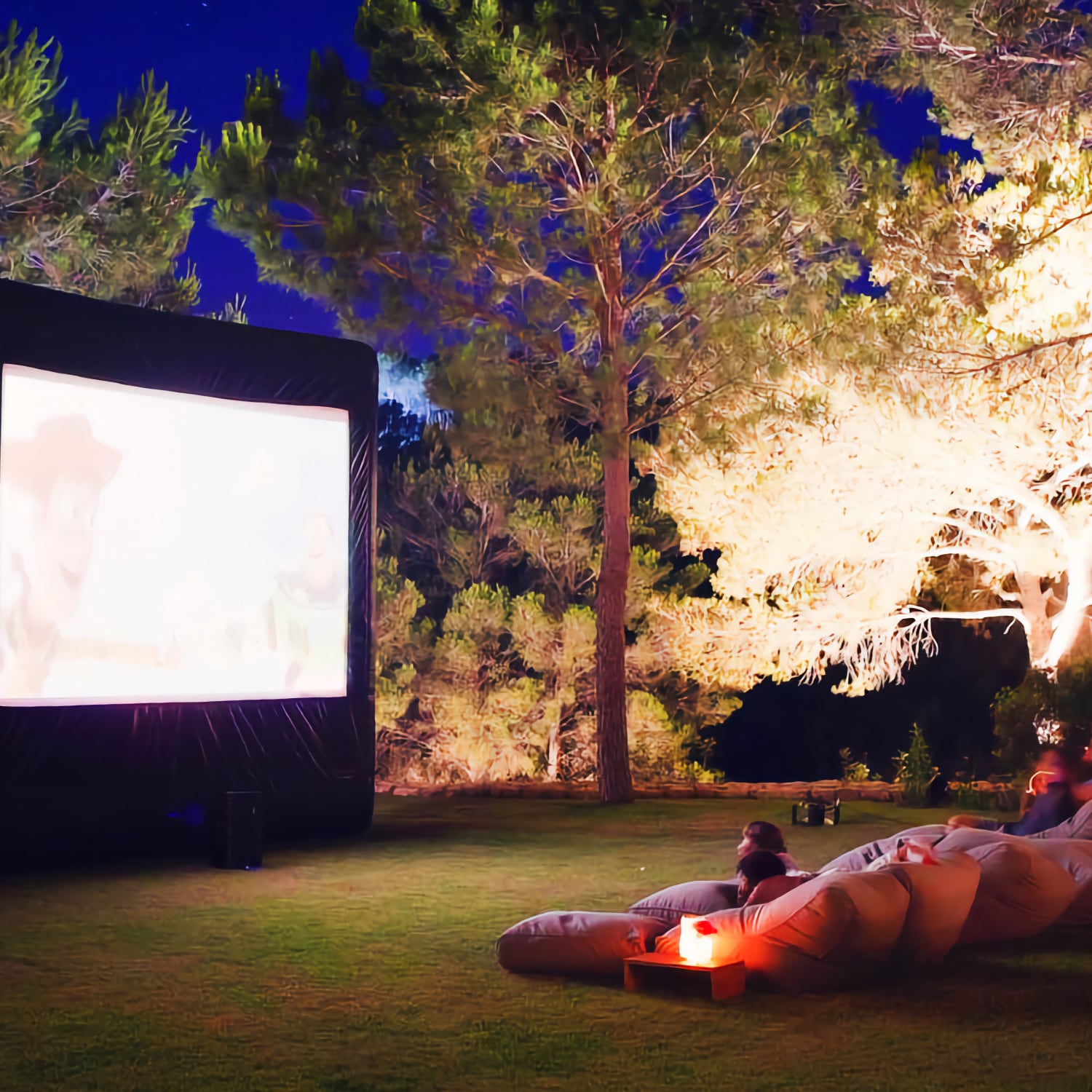 Moonlight cinema for Villas
---
---
Α complete stylish outdoor cinema in your backyard or rental holiday villa. A truly unique cinematic experience.
An exclusive cinema night in any backyard with comfortable beanbags, side tables with dimmed lights, and fresh roasted popcorn. We set up and run the show for you. You (or your guests) just pick the film and enjoy the night. Corfu's beautiful backdrop, the summer mediterranean night sky, will certainly add an extra touch of magic to a truly unique cinematic experience.
Υou can even allow some "carefree" time to grown ups, while the kids enjoy a favourite movie. We are always surprised by the magic found between kids and big cinema screens. Kids Moonlight Cinema Night brings that magic to the backyard.
The complete set up includes:
Cinema screen (up to 4.8m x 2.7m)
Full Hd projector and quallity PA sound system
Comfortable individual bean bags
Small side tables with dimmed lights
Cinema like popcorn machine (Plenty of fresh roasted popcorn for everyone)
---
---
Moonlight Cinema Barbeque (extra service/on request)
A menu grilled on the spot, which includes traditional recipes and local flavors. Exclusively made for our private cinema and served in a way to enjoy comfortably, while watching your movie. Please contact us for menu details.
(Our team, with a discreet presence, stays in place throughout the screening to ensure that everything works smoothly).
Frequently Asked Questions
1
Where can the cinema be set up?
Nearly anywhere. At a poolside, on the lawn or even a private beach. Our team will advise you based on our experience and your wish.
2
Does it take much time to set up? Is it noisy?
Not at all. Set-up takes approximately 40mins, depending on the venue. At the end we wrap up and leave no trace behind, within 30mins.
3
What movie can l choose?
Your cinema, your choise. Anything available apart from what is playing now in theatre.
4
Does it have to be dark to screen?
Yes. No outdoor projection works in day light. We advise you to start at least 20mins after local sunset time.
5
How much does it cost? How do I pay?
Cost depends on several things. Please contact us and we will help you out for the best possible solution. Full payment right before or after the screening.